In our Social War research we weekly measure and analyze the online presence of more than 70 fashion brands. We present you with the leaders of the previous week:
Replay scores big time with football player Neymar Jr.
Suitsupply dresses Ajax footbal club and increases engagement
MS Mode and the continued success of the choosing mechanism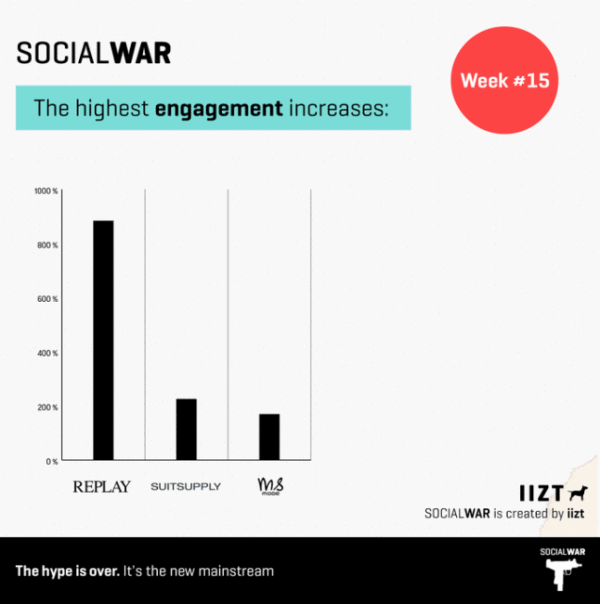 Replay scores enormously with "football player gone model".
Superstar Neymar Jr. and topmodel Allesandra Ambrosio are representing the Brazilian hope in fearful days. Ahead of the Olympic Games in Brazil, Replay created an online campaign around the 'flexible' hips of this South-American country. The success of this campaign says a lot about the current generation.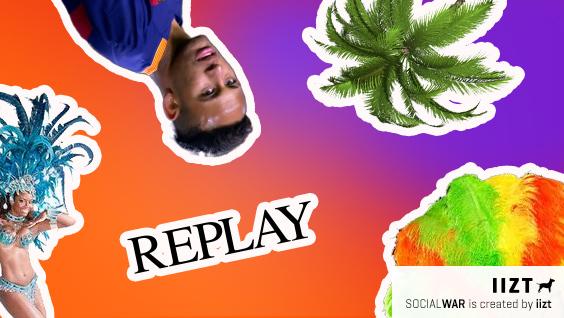 With #jeansyouhavetomovein Replay built a campaign around the hips shaken by the Brazilian duo. New Replay jeans are #hyperfree. This is a new line of jeans in which you can move easily. As the hashtag says, jeans you have to move in.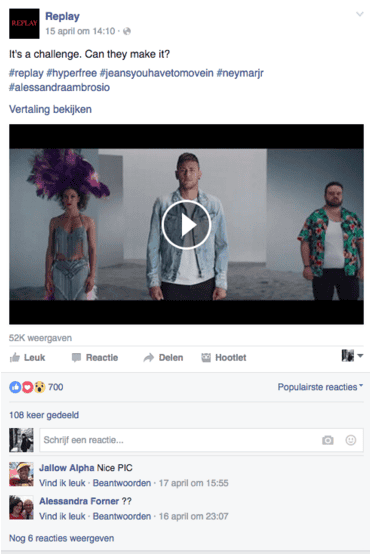 That is what Neymar and Ambrosio are doing in Replay's video campaign. But why Neymar Jr.'s part of the campaign is so successful and Alessandra Ambrosio far behind? Where on Instagram post with Neymar Jr. gets 4,031 likes and 54 comments, the post with Alessandra Ambrosio has only 10% of the number of likes and comments of her colleague.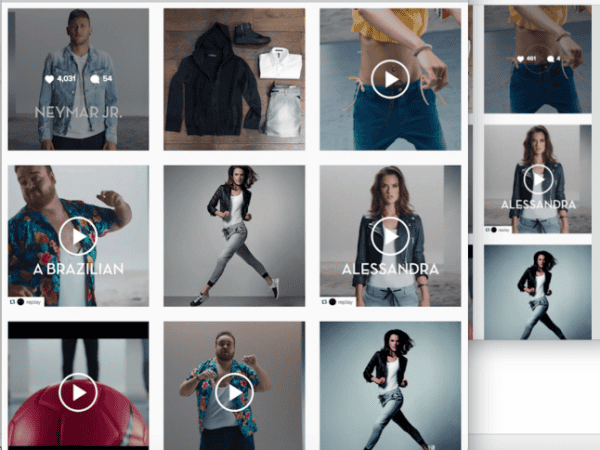 We see that the campaign gets supported overwhelmingly by Neymar Jr. He's a world star. But also approachable, cheerful and open. And this combination is catching on. It seems that the era of the untouchable supermodels is over. Replay cleverly builds a cheerful campaign around a footballer Neymar Jr. and shows his human and especially bright side. Online, this worked out very well. Nowadays it's not enough anymore to use a celebrity just as a static showcase.
The current generation is looking for celebrities with whom they can identify themselves. Replay understands this and uses it for their success. The Facebook posting with both Neymar and Ambrosio plays a prominent role and can count on much more likes, comments and shares than before. Replay increases their engagement up to 880%.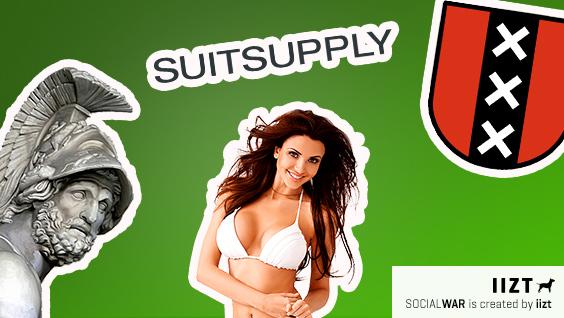 Suitsupply dresses Ajax and increases engagement.
From July 1, 2016 Suitsupply is Ajax's new apparel sponsor and uses this on Facebook big time. That is clear, because collaborations between (football) teams and clothing brands appeared in the past and give almost always guarantee for success. Dutch most successful football club said farewell to Oger. Which was the clothing sponsor of Ajax for more than a quarter of a century.
The collaboration with successful football teams is profitable for fashion brands for several reasons. Firstly, football is the worldwide sport number one, so you guarantee that you significantly increase the attention to your brand. The loyal and often major supporters of 'your team' will almost automatically choose your brand. Let's not forget that your clothes obviously a lot better suits the broad shoulders of a sexy footballer. But the best part is that sporting success of the club directly reflects on the brand they wear.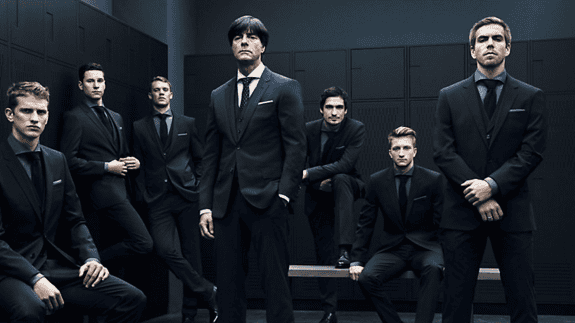 For several reasons this is a very interesting step, Fokke de Jong, CEO of Suitsupply, explains in "Voetbal centraal": "Just like Ajax, we are quirky and ambitious. Ajax is a global brand with a great reputation. The club is in the top three of the most famous football clubs in China, a market where we are growing fast."
Probably the Dutch fashion brand has looked beyond the borders and saw how other fashion brands are having a great success by collaborating with football teams. Current success of Replay dressing FC Barcelona. Also Hugo Boss dresses for years the German football team; WORLD CHAMPIONS WITH STYLE.
The signs for the upcoming collaboration between Ajax and Suitsupply are very promising. The Facebook post about Suitsupply cooperation with Ajax gets 2,6K likes, 50 comments and 30 shares. This campaign increases the engagement of Suitsupply up to 225%.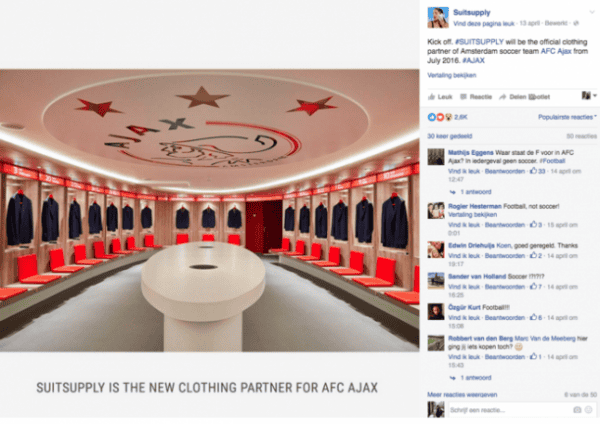 The question is whether Suitsupply learns from the success and approach of Replay. The above picture of a tight and almost clinical Ajax dressing room gives just distant and impersonal feeling. But what if Suitsupply showed Ajax's captain Davy Klaassen and his human and most approachable side? It seems very interesting to work with Suitsupply and realize an even more successful cooperation with Ajax.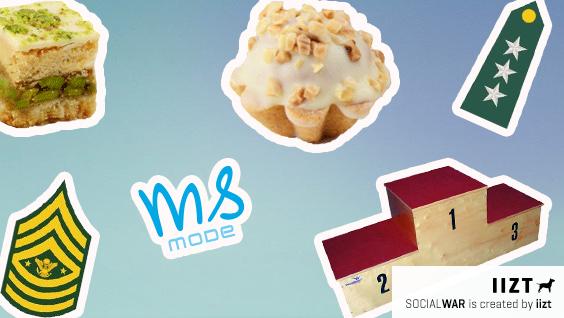 MS Mode and the continued success of the choosing mechanism.
The Dutch brand MS Mode counts as a competitor of Miss Etam in the choosing mechanism. Is it a coincidence that two rival Dutch brands both use the same engagement tool? Actually not, because we already mentioned the success of the winning mechanism in our Social War reports. A brand G-Star Raw broke all records with their engagement increase after #tightorwide campaign in 2015.
The mechanism is as simple as it is effective. Every like, share and comment raises your engagement. As an added benefit you go further into conversations with your fans and meanwhile they're representing your brand.
To look briefly at our own campaigns, choosing mechanism was more or less a part of many of our successful campaigns. We developed some successful campaigns for Miss Etam, Dept., JC Rags and adidas, where choosing mechanism had a main role. It is the combination of the interest of the audience and the simple choice that goes into the heart of the audience. Each target group requires its own approach and MS Mode seems to know it very well.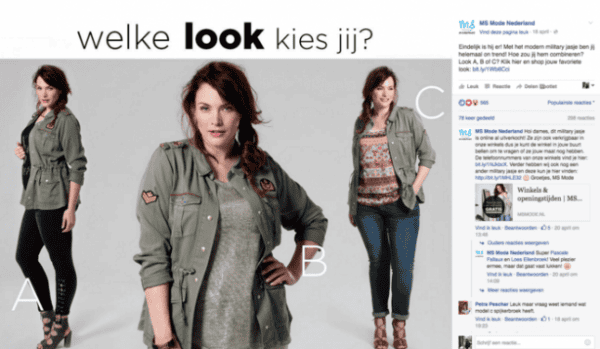 This time the tool strikes again with 565 likes, 298 comments and 78 shares and brings the MS Mode an engagement increase up to 165%. MS Mode proves it again, dare to open up your brand for your fans and they will fulfill your dream.
Want to know more? Just ask us: social@iizt.com or 020-6933131
Social War helps you to build a strong online presence. Learn from the most successful brands.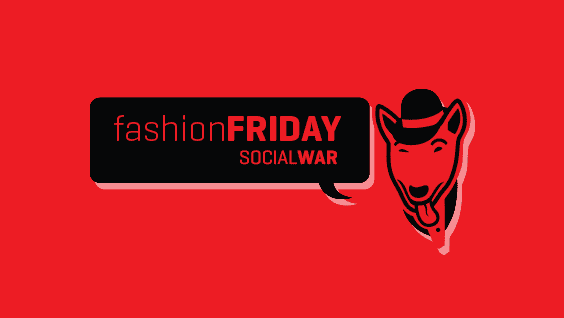 De hype voorbij, het is de nieuwe mainstream
IIZT publiceert regelmatig findings uit het Social War onderzoek. Blijf op de hoogte en stuur je e-mail naar richard@iizt.com or svetlana@iizt.com of bel ons op 020 – 693 31 31.
Social War
Social war is het ongoing onderzoek dat IIZT doet onder meer dan 70 modemerken wereldwijd. Het signaleert de do's en de dont's voor merken op social media. Iedereen in de communicatiewereld roept en blogt over social media. Wij staven alles met feiten, zodat je ook echt kan leren van elkaar. De hype voorbij, het is de nieuwe mainstream.
IIZT Amsterdam is al 13 jaar leider op het gebied van communities, branding en interactieve communicatie. Wij hebben werk gedaan voor adidas, KLM, H&M, Mitsubishi, Miss Etam, UGG, G-Star, Livera, hart.volgers, Respectance, adidas, Defensie, Men at Work, Cliniclowns en meer. Bel ons voor een kennismaking 020 – 693 31 31.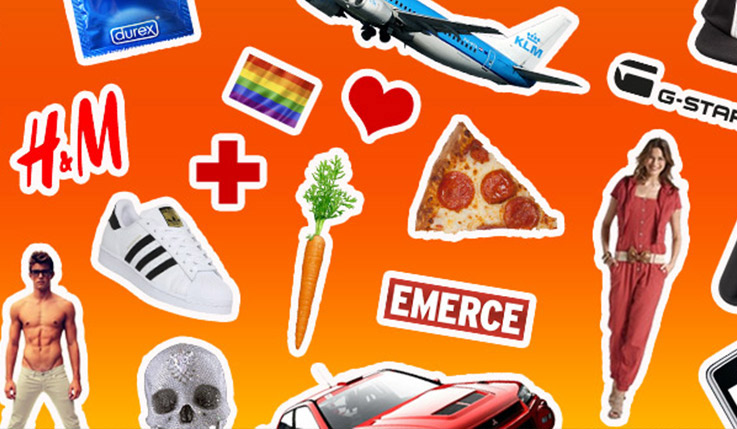 You're always welcome at Prinseneiland. Call us and reserve time for a first date. 020-6933131 or mail richard@iizt.com