The first talk of the day was arranged by Slate Olson of Rapha, titled "Building a global lifestyle brand". Slate introduces himself as storytelling and relationship manager. I came in 3 minutes late, so I sat down on the floor in the back of the space. Thank you Emerce for putting the screens up so high, that I could look over the many tall Dutchies and still watch the presentation. Slate brought nice artwork and had some interesting clips. He explained what his role is and how he see the environment of Rapha. It's where the three circles meet of Content, Community and Commerce. I'm a long time fan of Rapha and their mailings make go buy-crazy, which is something that only MrPorter realizes in my brain.


What is Rapha, some of you might wonder? Rapha is a sports -fashion brand that focuses on cycling. So their clothing, products and information is all about cycling wear that you can use as a sportsman, or as a cyclist in town. Now for Dutchmen this is something awkward, as for us cycling is the most common means of transportation. We do not think of ourselves as "working out" when we do our groceries, or go to work on our bike. In the States, people see the bike as a sports means. They put the bike on the roof of the car, ride to a park in their 4WD and then start cycling in their sports clothing. Also since early naughties in towns like San Francisco, cycling became the cool thing to do. When I lived in Frisco in 2007/2008 I was one of the only cyclists to work and back. I wore my normal clothes, but the co-cyclists I saw on the Market Street cycling downtown already looked like models for Rapha. They had special pants, special shirts, special locks, special caps, special gear. It was a subculture, that has gone more mainstream now. They were very much based on nostalgics of cycling. Repairing a bike was done in cafes, where all cyclists flocked together with their fixies. This became a lifestyle and was pretty much crosslinked with hipsters, beards, glasses, getting more casual. Just my observation. Rapha comes out of this "movida", if you ask me. Their stuff is high end quality and has all these things integrated in clothing, that cyclists should appreciate. Could be that Dutch people do not understand the need for special clothes on the bicycle, as here women will wear a gown on a bike with one kid in the front seat and one kid in the back seat of her bike ;-)

Biking is a cool thing, Slate said. But what is cool today, can be replaced the next day by for instance fly fishing or some other not yet mainstream activity. They want to focus on cycling, no matter what. Their entire community they work in, is about cycling. Before he worked at Nike. Now he could build a brand from the start. All the material they started making came out of their own community. People who are inspired by cycling. A photographer, that used to work for Richard Avedon, made his own photos of cycling. With friends as models and of different spots than the usual cycling spots like the Mt Ventoux. He was asked to make some reportage for them. Using their friends as models, make it look like a reportage and narrative and there are no retakes. It has to be real.
Road racers are not the nicest people, or d-bags as he called them, so you had to go around that image and focus on the beauty and the experience of cycling.

In 2009 they started a campaign where people were asked in the States to tell them what their favorite roads are to cycle on. They collected all these amazing roads and drove some of them. What resulted into more great material and credible content. They care about cycling and the experience it gives you. Driving new roads, will take you places you have never seen before. Or as Thoreau said: "not until we're lost, we begin to understand ourselves".
This concept was adopted internationally. Also European rides can be found for instance.

Cycling is a creative sport nowadays (apart from Holland ;-). In San Francisco all creatives are into cycling. It's that subculture. Now Rapha has gone so main stream that they even team up with the Sky Team, well known for the Tour de France victories. In the beginning they really started around the story telling, it did not start from fashion. Now the fashion gets more and more elaborate.


Nowadays with all the media options, people try to build heroes. It goes instantly with twitter, you do not have to wait for your newspaper to be flown in from Europe to know in the States whatsup in the Tour de France during summer. They cannot beat the enormous budgets to make heroes. All they have is heart, romance and beauty for the sport. That's how Skynet winst as well. Their preparation is even different. It's all about the cyclists, they even sleep on their own mattresses during the Tour de France. It's about the people and what creates their ideal situation to perform. He even showed the clip of Soren Kristiansen the team chef who prepares spinach smoothies for all of them in the morning.

Rapha sees its community broader than Facebook and Twitter. It's about those crazy about cycling and this lifestyle. There are countries that are pretty new to cycling, as in Asia. For them they even make pages as how to pack your pockets in your shirt for a ride. They also let their personnel organize things or embrace events organized by enthousiasts around the world. They have plenty of initiatives where people together make a lot of kilometers by bike within a limited time period, for a special destination, or just because they are women and also like to cycle. But for Rapha, the women are just a kind of an afterthought. (#womens100) The core is still the male consumer. Nice that he also mentions the Dutch fanatic enterprise #inonego where a guy cycled from Paris to Haarlem in 18 hours.
All such actions are not all about money or winning big prizes. It's for recognition and for the fame of it. In San Francisco they have their cafe, where people who managed to realize a special performance, get their own coffee cup behind the bar with their own portrait on it.

Rapha started with pop up stores in London and New York. Food, coffee, bikes, beautiful clothing. The big learning point here was that they're not concerned about maximizing the turnover of the floor plan. Sale per square meter is ridiculous for Rapha. He understands that this is what most people in the industry is focused on. It's a nice contrast with the behavioral story that Boris Surya would tell us later. Though he also acknowledges the magic is most important, and that the focus on people is paramount.
You cannot use camera technology or statistics to create a business like Rapha did. This is really about passion and living it with your personnel and community. If only more brands were this relevant to their audience, they would not have to worry about shelf space.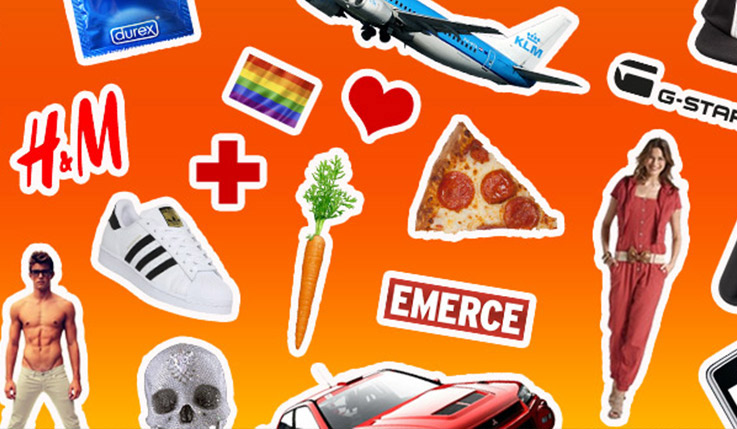 Je bent altijd welkom op het Prinseneiland. Bel ons en maak tijd voor een eerste ontmoeting. 020-6933131 of mai richard@iizt.com