Harrods honors the Queen, G-Star RAW just the product and Rapha gambles with its followers.
In our Social War research we weekly measure and analyze the online presence of more than 70 fashion brands. We present you with the leaders of the previous week:
Harrods honors the Queen
G-Star RAW focuses again on just the product
Rapha gambles with its followers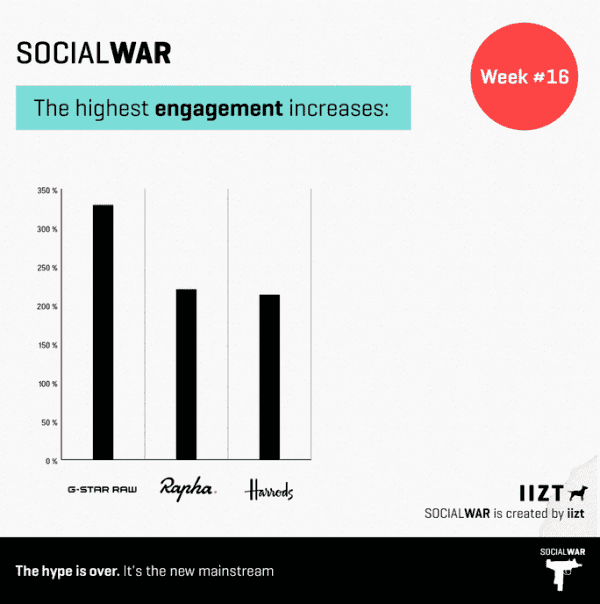 Harrods operates another British icon
There are just few more things more British than Harrods. If for the Netherlands these are tulips and Volendam, England has its British department store Harrods and their always popular products from royal collection. And what else Harrods can do better for now than congratulate Her Majesty the Queen on her ninetieth birthday? Where brands like to compete for the attention Harrods knows how to use successfully the popularity of the longest reigning British monarch ever. "If you can't beat them, congratulate them."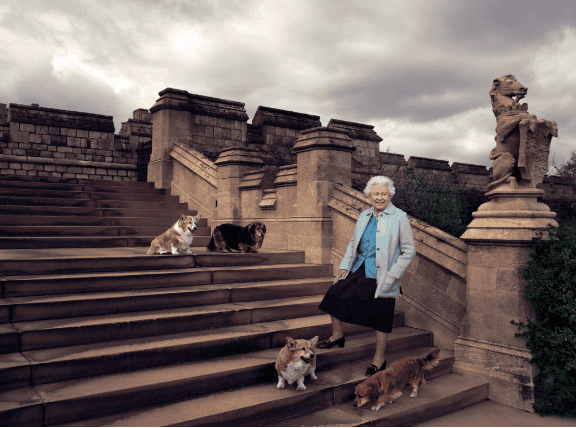 For the brand Men at Work we previously created Dancing Queen and with the use of Maxima we made Miss Etam incredibly popular on social media. By appreciating and congratulating that one British icon by the other British icon, Harrods achieved to reach the national centre of their target group. And Facebook followers of Harrods appreciate this. With 14,000 likes, 1956 shares and 165 comments under the post, engagement of Harrods increases by 213%.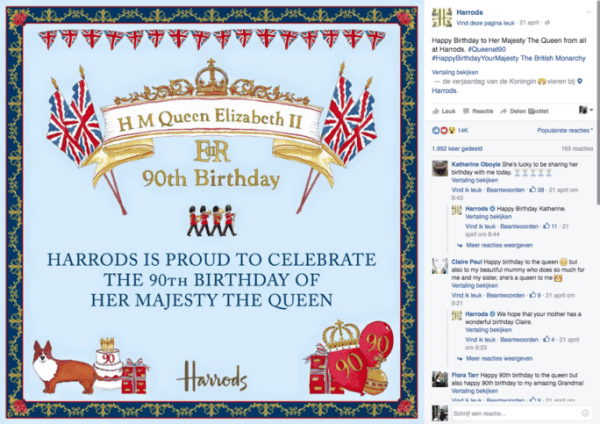 Harrods is fast and smart with picking the right moments. We wrote an article earlier about their highly successful posting on Mother's day. This article can be read here.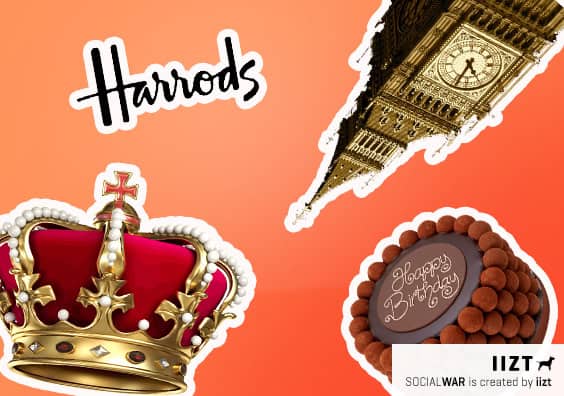 G-Star RAW focuses again on just the product.
The Dutch jeans brand that always uses celebrities to score on social media, this time  scores with a "back2basic" post. While always the most successful G-Star RAW campaigns with world stars such as Pharrell Williams and DJ Afrojack, this time we see nothing more than an absolute focus on a product. And this helps the Dutch brand once again increase the engagement. For brands which have a quality product and a strong brand image it is definitely possible to score with such posts. No celebrities, no winning actions or any other social media tricks. Just a post with a product in focus centre.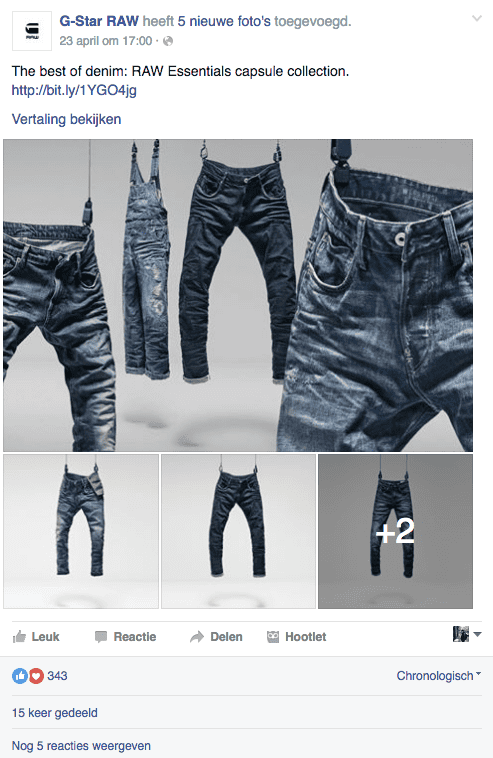 Previously we wrote on the online trend about the use of product focusing by several brands. In our Fashion Friday #12 report we described all the success that both Converse and G-Star Raw achieved with the product focusing. With such posting on March 27, G-Star Raw increases an engagement up to 118%. The Dutch brand understands the success and repeats it this week even more successful.
The 'back2basic' posting helps to increase an engagement by 329%.

The postings which rid of all the bells and whistles seems to be a new online trend in 2016. We are very curious what brand dares to base its campaign just on its product. Want to know more about the success of back2basic postings? Read the previous article we wrote about it.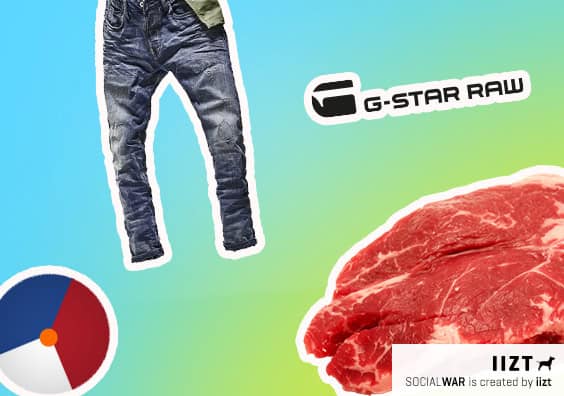 Rapha gambles with its supporters
We always have been very big fans of Rapha. This sports brand knows how to reach its niche and how to please. British cycling fetish brand has managed to create a vibe around their brand in which storytelling, community and lifestyle are more important than the product they deliver. How Rapha has managed to take their audience is an example for the rest. Also this week, the brand scores again very good with (very surprisingly) a bike that you can win.

Just like Harrods, the ladies and gents form Rapha are thoroughly British. And these are Brits who like or love to gamble. Whether these are the elections, football or something else. In the UK you can bet anywhere. And here Rapha uses it successfully and lets their fans bet and guess the finish time of the cycling classic Liège-Bastogne-Liège. Much closer than that it is hardly Rapha can come to its fans. What they do is incredibly simple. The campaign combines the British men who are known for the love of gambling, and the clever use of a popular event (bicycle race Liège-Bastogne-Liège). It shows once again that online success is often closer than you might think. Provided that you know your target group perfectly.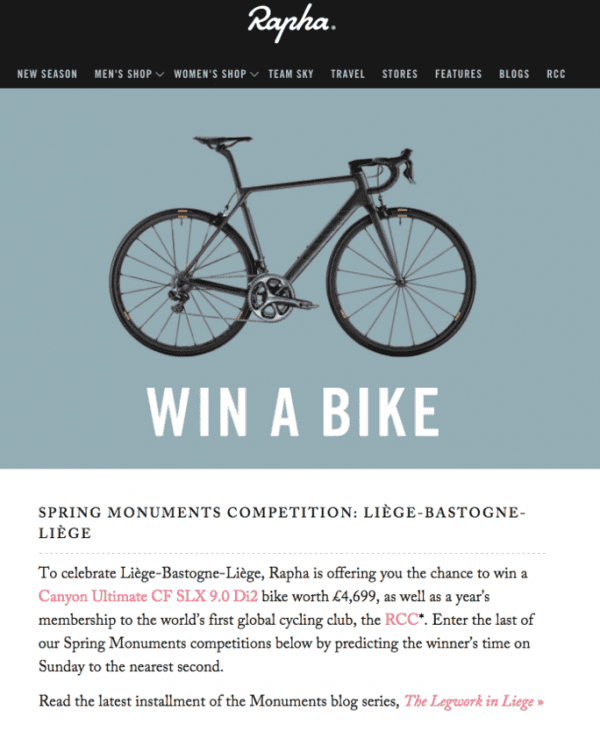 There are few brands that have been able to to create such a strong community. Rapha organises bike tours, with their stories they know how to represent the 'cycle lifestyle' perfectly and even offline shops are true meeting places for the real bike freaks. Rapha has become a cycling icon. The brand has its central position in its niche and the strong knowledge of the target group and together with also combines this week the right triggers. This combination brings Rapha 572 likes, 61 shares and 223 comments under the post and engagement increases this week up to 220%.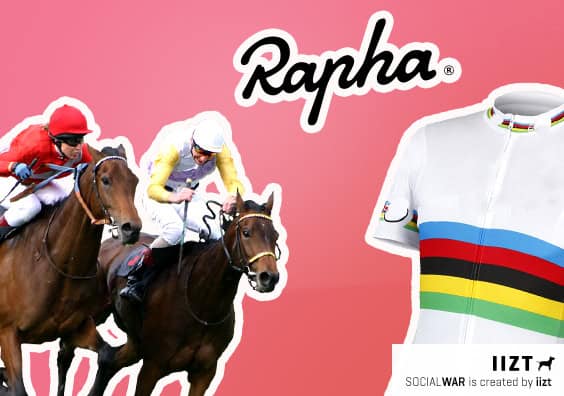 Want to know more about our love for Rapha and the connection with its followers? Read these articles we wrote earlier.
Social War helps you to build a strong online presence. Learn from the most successful brands.
Want to know more? Just ask us: social@iizt.com or 020-6933131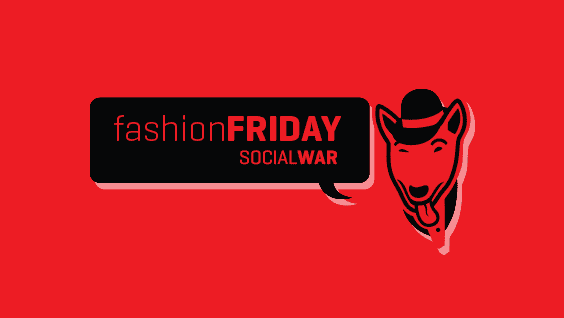 De hype voorbij, het is de nieuwe mainstream
IIZT publiceert regelmatig findings uit het Social War onderzoek. Blijf op de hoogte en stuur je e-mail naar richard@iizt.com or svetlana@iizt.com of bel ons op 020 – 693 31 31.
Social War
Social war is het ongoing onderzoek dat IIZT doet onder meer dan 70 modemerken wereldwijd. Het signaleert de do's en de dont's voor merken op social media. Iedereen in de communicatiewereld roept en blogt over social media. Wij staven alles met feiten, zodat je ook echt kan leren van elkaar. De hype voorbij, het is de nieuwe mainstream.
IIZT Amsterdam is al 13 jaar leider op het gebied van communities, branding en interactieve communicatie. Wij hebben werk gedaan voor adidas, KLM, H&M, Mitsubishi, Miss Etam, UGG, G-Star, Livera, hart.volgers, Respectance, adidas, Defensie, Men at Work, Cliniclowns en meer. Bel ons voor een kennismaking 020 – 693 31 31.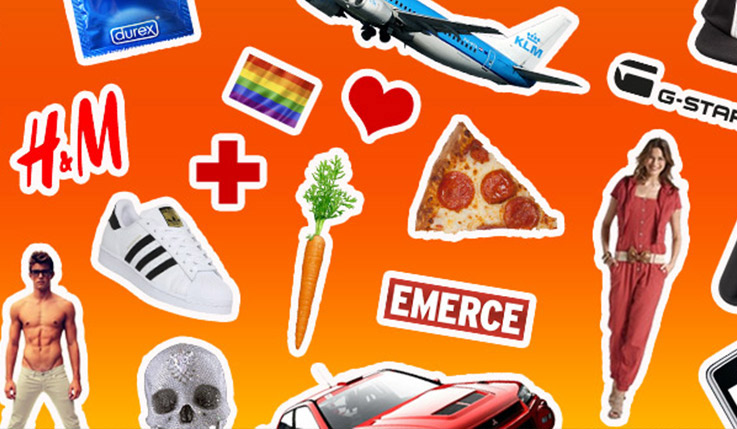 You're always welcome at Prinseneiland. Call us and reserve time for a first date. 020-6933131 or mail richard@iizt.com