Overview of  the fashion brands and social media trends of the first half of 2017: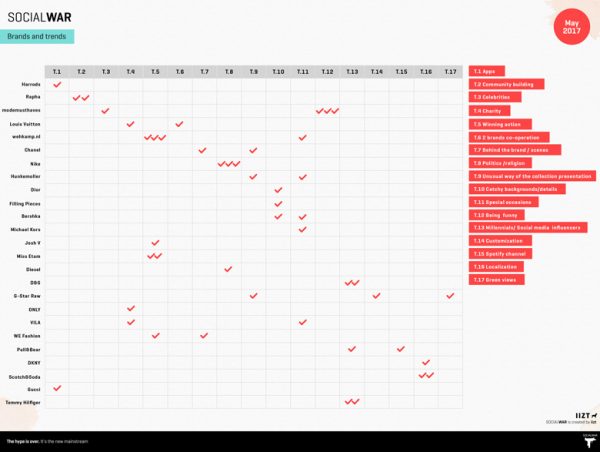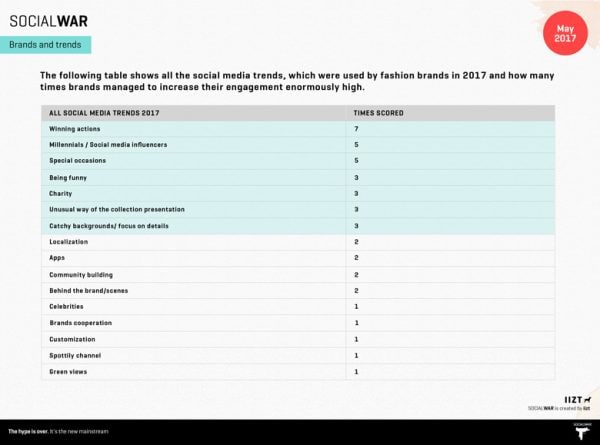 Conclusions:
*Winning actions seem to be the most effective trend. It's the easiest way to generate the highest engagement or at least keep it above the average.
*Millennials and social media influencers are the ones who actually influence followers' minds. Easier to reach than celebrities and seem to be more effective.
*Post while special occasion (April Fools day, Easter, Mothers day or any other holiday) can easily increase your engagement. Just simply let your followers know that you remember about them and they will react back.
*Laugh together with your followers. Just a simple joke, where they will recognize themselves will make them react in comments or share it with their friends. And your engagement grows same time.
*Healthcare support, charity, helping disabled children and much more. Fashion brands show that they care about people around and not just clothing. Some volunteer activities can help you to win your followers hearts.
*While launch of a new collection brands found unusual way to announce Some brands even managed to get lots of attention to the collection without even showing it. Be different and creative.
*Everyone is talking lately about importance of details in fashion outfits. Here we see that brands can also use it on their social media and activate their engagement.
Do you want to know more about the other social media trends of 2017? Just ask us! We know all about it.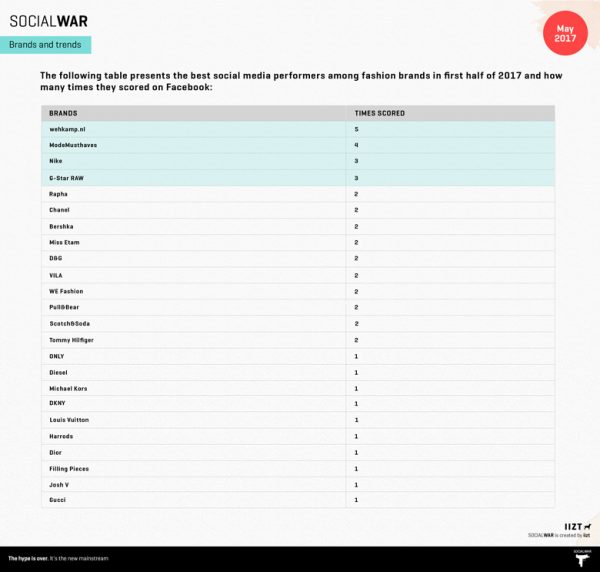 Conclusions:
wehkamp.nl, ModeMusthaves, Nike and G-Star Raw scored on Facebook more often than any other fashion brands from Social War research in the first half of 2017.
Do you want to know how these brands or another have reached their success? Just ask us. We are ready to share our knowledge with you.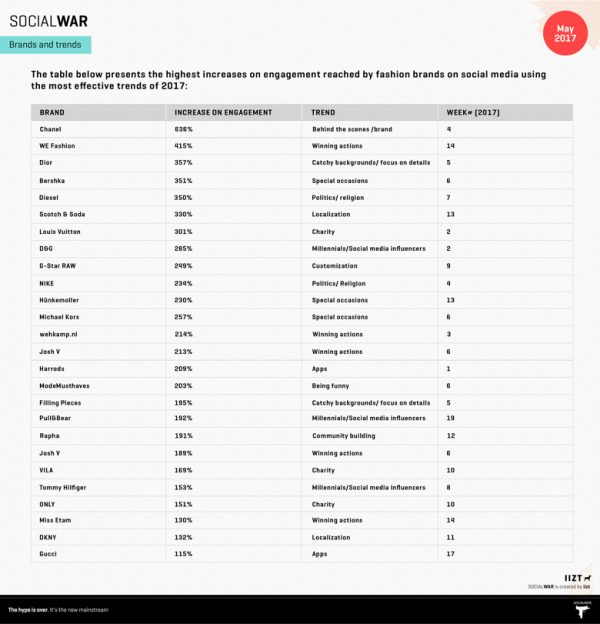 Curious about a particular brand? Check our weekly videos at http://www.socialwar.nl.
Conclusions and top campaigns:
*Chanel reached the highest engagement increase among the others. Brand gives behind the scenes look "Spring –Summer Haute Couture 2017 collection", showing the long and time consuming process of creation, details, art work and people behind the brand. People love to know who stays behind the brand. So why not to let them get to know you?
*WE Fashion is #2. The brand scores with winning action relative to TV show "The voice kids". Brand goes live with a post "Battle and win" which fits the idea of TV Show. People can vote for Look 1 or 2 and the same time engagement of WE goes up. The brand gives a chance to win one of the outfits or otherwise 20% discount. As we talked above winning action is the most frequent trend on social media in 2017. But it also can give a high increase on engagement as for WE Fashion.
*Dior scores with They present "Poison girl" perfume, which consists of 3 main ingredients. They don't just advertise the bottle. For each of the ingredients Dior creates impressive quality pictures, with intense colours and high resolution. Dior pays attention to "details".
*Bershka campaign for a special occasion such as "Valentine's day" worked perfectly for the brand, even if it was too simple. Very uncomplicated and clear post, which reminds you to #showtruelove. No pink hearts or excessive sweetness, which are overused by other fashion brands on their social media. They just use a hashtag #showtruelove that indirectly reminds us of the upcoming Valentines day. Gifts for him and gifts for her with links attached next to it. Totally clear what has to be done. You don't have to go through the whole bershka collection. Berhska makes that task easy for you so you can click and get a nice present to make you girlfriend or boyfriend happy.
*Diesel goes to politics. Their campaign #MakeLoveNotWalls has enormous success on social media. Campaign reflects one of the most urgent world problems. Racism and homofobia. There are a lot of discussion around "Trump's wall against immigrants or intolerance about gay people. Diesel sends their message to the world very clear. Love is that what you should make! Not walls! Followers of Diesel are supporting brand's views and react positively. Engagement goes sharply high. Share your views and opinion with your audience and they will react on it!
*Scotch and Soda uses localization. The campaign "From Amsterdam, from everywhere" is the perfect example. Brand wants to be associated with Amsterdam and becomes it's face. Slogan of the campaign is: "Borders, frontiers. Aren't they meant to be crossed? Out there is where we find ourselves. We are from everywhere". Scotch & Soda campaign raises the question of borders and being a reflection of Amsterdam sharing the same ideology. And besides of online advertising brand uses offline. Scotch& Soda tram goes through Amsterdam streets making people associate the brand even more with this city.
Do you want to know more about the best campaigns of 2017? Contact us! We can tell you all about it.
De hype voorbij, het is de nieuwe mainstream
IIZT publiceert regelmatig findings uit het Social War onderzoek. Blijf op de hoogte en stuur je e-mail naar richard@iizt.com or svetlana@iizt.com of bel ons op 020 – 693 31 31.
Social War
Social war is het ongoing onderzoek dat IIZT doet onder meer dan 70 modemerken wereldwijd. Het signaleert de do's en de dont's voor merken op social media. Iedereen in de communicatiewereld roept en blogt over social media. Wij staven alles met feiten, zodat je ook echt kan leren van elkaar. De hype voorbij, het is de nieuwe mainstream.
IIZT Amsterdam is al 13 jaar leider op het gebied van communities, branding en interactieve communicatie. Wij hebben werk gedaan voor adidas, KLM, H&M, Mitsubishi, Miss Etam, UGG, G-Star, Livera, hart.volgers, Respectance, adidas, Defensie, Men at Work, Cliniclowns en meer. Bel ons voor een kennismaking 020 – 693 31 31.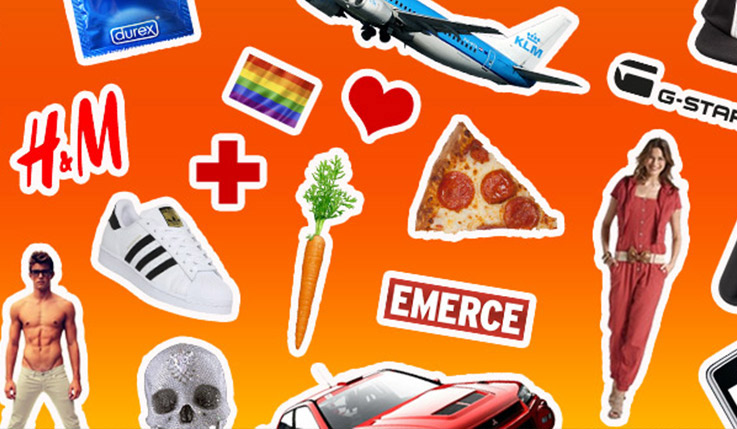 Je bent altijd welkom op het Prinseneiland. Bel ons en maak tijd voor een eerste ontmoeting. 020-6933131 of mai richard@iizt.com