Combination of sports and fashion and extensive knowledge of the target audience bring MS Mode to social success.
In our Social War weekly measure and analyze the online presence of more than 70 fashion brands. We present you 3 leaders:
McGregor

MS Mode

G-Star Raw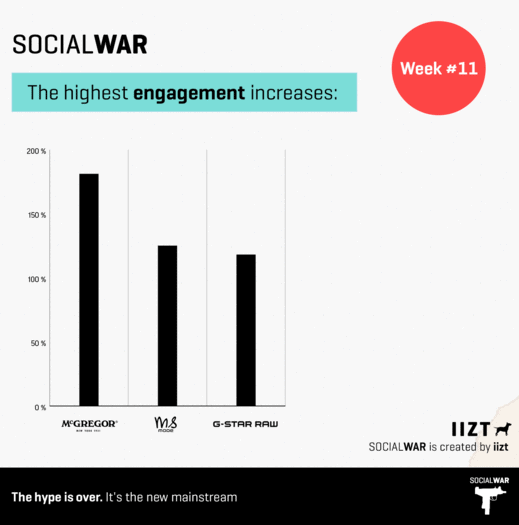 McGregor and the power of bloggers.
Nicolette van Dam as ambassador of McGregor is clearly a good match. She is an elegant traditional Dutch woman, girl next door.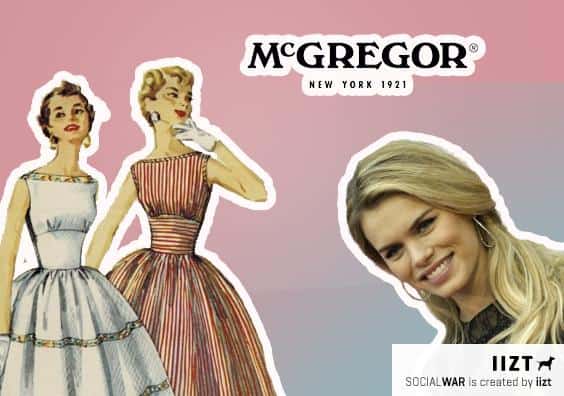 But it is not only the choice of Nicolette, what brings McGregor high engagement. The brand is smartly using a handy Facebook tool.
Dark Facebook Posts help McGregor to target specific groups of its followers. Showing beautiful Nicolette in Weekly Style Blog particularly to the women brings a lot of attention of the female followers. They are so enthusiastic about new weekly looks. As a result, McGregor has an increase of engagement up to 180%.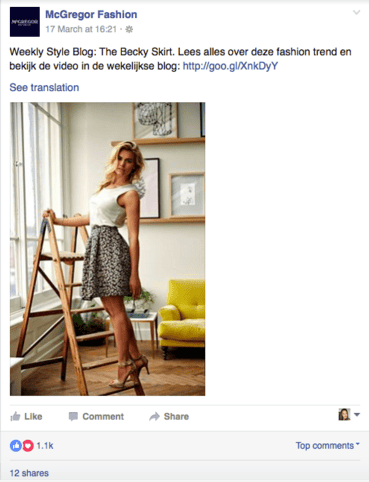 Want to know more about Dark Posts on Facebook? Read the article here.
MS Mode scores with fashion and sports.
MS Mode follows a popular trend: the integration of fashion and sports. We saw it earlier with Apple which blurs the boundaries between fashion and sports with the Apple Watch. Following the collaboration between Reebok and Bershka, MS Mode launches its own sports collection. Moreover, MS Mode gives its campaign an extra twist with #curvepower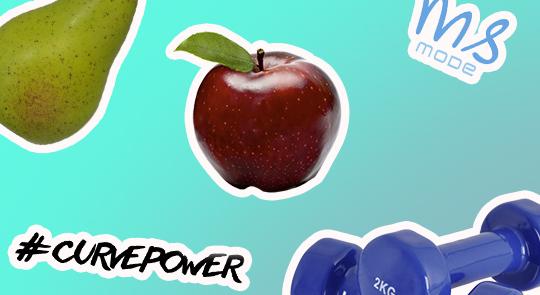 Dutch fashion brand focuses on the full figured woman in its #curvepower campaign. MS Mode knows its target group and knows how to get it by not focusing on the "standard models" and small sizes. Their message to their audience is simply clear and it is catching on.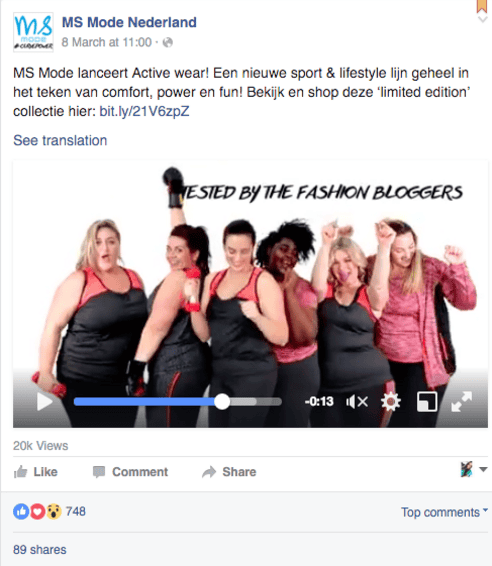 With a combination of sports and fashion and in-depth knowledge of the audience MS Mode becomes one of the best online performers. MS Mode engagement increases with #curvepower up to 125%.
G-Star Raw and the use of the right ambassadors.
G-Star Raw is positioning itself online for quite some time as a winner when it comes to celebrity marketing. In the past, G-Star already had a success with DJ Afrojack. He has designed and launched a clothing line for G-Star Raw and Afrojack X G-Star Raw sunglasses. With nearly 9 million Facebook followers Afrojack is not only being behind the decks, but as well being an online giant. His rank is 4.5 times bigger than G-Star Raw one. Together they have a range of more than 10 million followers.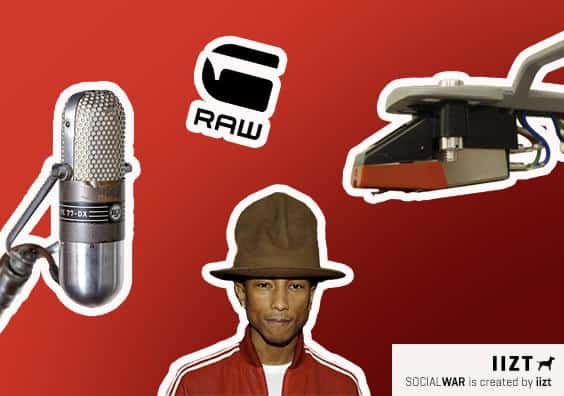 After the successful collaboration with Afrojack G-Star Raw again brings another giant to their online field. Pharrell Williams, the favorite of millions and a desperate fighter for a purity of the ocean is an ideal choice for cooperation. Successful, creative, hard-working, full of new ideas, all-round man. Pharrell becomes G-Star Raw's new co-owner. Cooperation between these two is far-reaching.
G-Star Raw knows how to use it online. The brand gives to its followers not just a sneak peek of the new partnership, but allows them to meet Pharrell in person.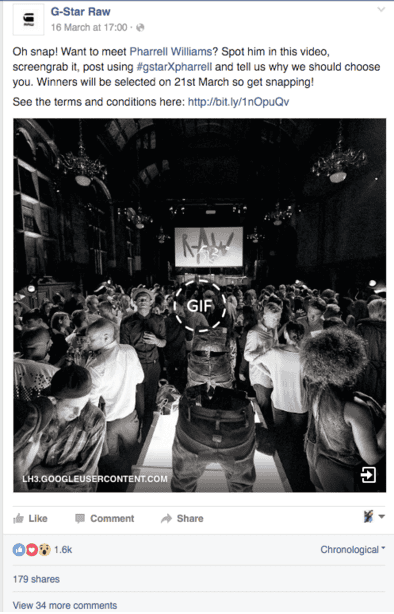 Fans can win meet & greet their dream by capturing a screenshot of Pharrell and placing it with an original motivation on Facebook. Screenshotting and explaining their motivation fans of Pharrell have increased an engagement of G-Star Raw up to 115%.
Want to know more? Just ask us: social@iizt.com or 020-6933131
Social War helps you to build a strong online presence. Learn from the most successful brands.
For more information go to https://2002.iizt.com/
REMARK: Social War measures the power of social engagement related to current fans and numbers of interaction. This means that the power and quality of posts and performance can be measured and that the huge brands and the smaller brands can be compared. It's good to know that smaller brands can perform better than the humongous ones. Though we must also say that the brands with the biggest number of followers know very well to stay on top by supplying quality.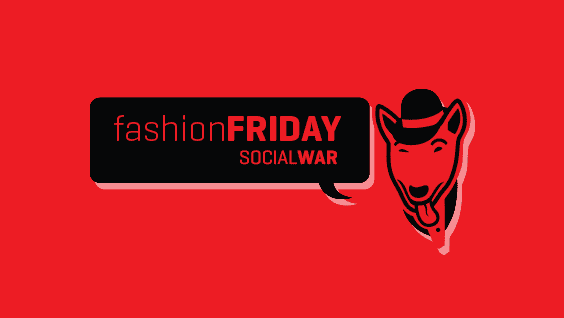 De hype voorbij, het is de nieuwe mainstream
IIZT publiceert regelmatig findings uit het Social War onderzoek. Blijf op de hoogte en stuur je e-mail naar richard@iizt.com or svetlana@iizt.com of bel ons op 020 – 693 31 31.
Social War
Social war is het ongoing onderzoek dat IIZT doet onder meer dan 70 modemerken wereldwijd. Het signaleert de do's en de dont's voor merken op social media. Iedereen in de communicatiewereld roept en blogt over social media. Wij staven alles met feiten, zodat je ook echt kan leren van elkaar. De hype voorbij, het is de nieuwe mainstream.
IIZT Amsterdam is al 13 jaar leider op het gebied van communities, branding en interactieve communicatie. Wij hebben werk gedaan voor adidas, KLM, H&M, Mitsubishi, Miss Etam, UGG, G-Star, Livera, hart.volgers, Respectance, adidas, Defensie, Men at Work, Cliniclowns en meer. Bel ons voor een kennismaking 020 – 693 31 31.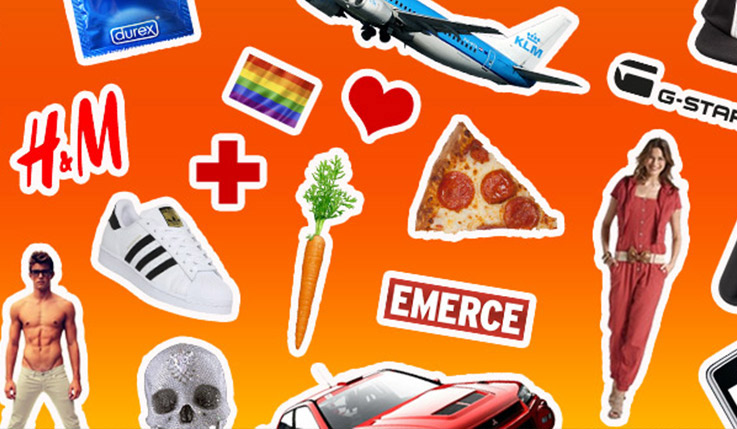 You're always welcome at Prinseneiland. Call us and reserve time for a first date. 020-6933131 or mail richard@iizt.com