This week in our returning Social War research, we discuss the French sports brand Le Coq sportif. Recently the brand added Snapchat to their Social Media channels, as one of the very first fashion (R)etailers. Is the use of Snapchat the future for fashion brands?
Snapchat in a nutshell
For those of you who are still unfamiliar with Snapchat, here comes a short explanation. Snapchat puts a time limit on photos and videos users can send each other. The sent photo or video will disappear within a few seconds, and it will never return again.
A new marketing tool
It normally would be an unusual addition to the 'standard' social media channels as Facebook, Twitter, LinkedIn and Instagram. Even so, Le Coq Sportif isn't the first to head in the direction of Snapchat. Especially for a younger target group it is a very effective social medium. Where Facebook has an average user age of 40 years, the majority of snapchatters is between 13 and 25 years old. Also, Snapchat is the quickest growing 'messaging app' of 2014, with an amount of 200 million monthly users. The big advantage for the 'youngsters' is that they will not run into their parents there, contrary to Facebook.
Successful implementation
When we look at the successful Snapchat promotion of the New York based 'yoghurt shop' 16 Handles, we see the power is in simplicity. They asked their followers to send a snapchat of themselves eating a 16 Handles yoghurt. As a reward, 16 Handles would send you a coupon. As that Snapchat was only visible for 10 seconds, the customer would have to wait to open the snapchat until they were about to pay. And that is where the element of surprise was. The discount varied from 16%, up to 100%. With this, 16Handles was the first to see the potential of Snapchat as a marketing means, and implemented it very successfully.
Disappeared photos as a symbol
Not only 16Handles used Snapchat successfully in the past. The Worldlife Fund launched her #lastselfie campaign where the disappeared Snapchat are a symbol of the vanishing animal species and landscapes.
NBA and Kevin Durant
In a Snapchat triptych NBA asked attention for the choosing of Kevin durant as NBA's Most Valuable Player. In a short photo story they called basketball fans to action to tune in live at NBA.com for the award of the MVP.
Recruitment via Snapchat
Grunhub used Snapchat to find a new intern. Grunhub was looking for a candidate with 'Snapchat Skilz'. In a six-part photo story, Grunhub explained how interested candidates could respond on the available vacancies.
Exclusive content
Cosmetic brand NARS used Snapchat to give their followers a preview of their upcoming collection. The asked their followers on Twitter and Instagram to follow NARSisst at Snapchat. With this new friend, they got access to exclusive content of the latest NARS collection.
Embrace the time limit.
To understand and Embrace Snapchat like 16 Handles did, you will have to get to know you followers first. Who are they and what do they want? When you really know them through and through, you can explore the possibilities that the time limit of Snapchat provides. Create a moment and find a momentum where the disappearing adds to the message. When used the right way, Snapchat can really be a great addition to your online marketing channels.
We would love to build a Snapchat case!
Who dares?
Like to keep up to date?
IIZT regularly posts findings from our Social War research. Stay posted and send your email address to social@iizt.com or call us at +3120 693 31 31
Social War
Social War is an ongoing research by IIZT on over 70 worldwide fashion brands. It signals the do's and don'ts for brands on Social Media. Everyone in the communication business talks and blogs about social media. We provide you with the facts, so we can learn from each other. Pass the hype, it is the new mainstream.
IIZT was founded by Richard Derks who earlier set up KaZaA and made it the most downloaded software worldwide at that time.
IIZT Amsterdam has been the market leader for 13 years regarding communities, branding and interactive communication.  We have worked with adidas, KLM, H&M, Mitsubishi, Miss Etam, T-Mobile, UGG, G-Star, Livera, Hart.volgers, Respectance, Villa Arena, Defensie, Men at Work, Cliniclowns etc.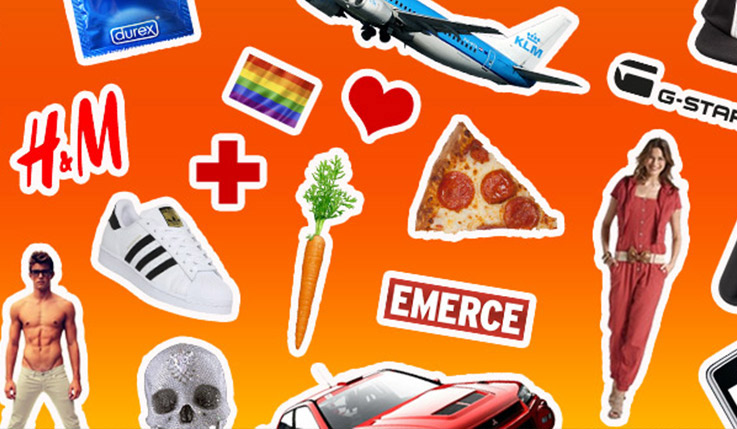 You're always welcome at Prinseneiland. Call us and reserve time for a first date. 020-6933131 or mail richard@iizt.com