Social War helps you to build a strong online presence. Learn from the most successful brands.
Previous weeks we were providing you with the weekly outcome of our research. This time we will give you the review of April.
During April 11 fashion brands scored better on social media than the other ones with their creative campaigns. Firstly, let's have a look on the highest engagement peaks they have reached with these campaigns: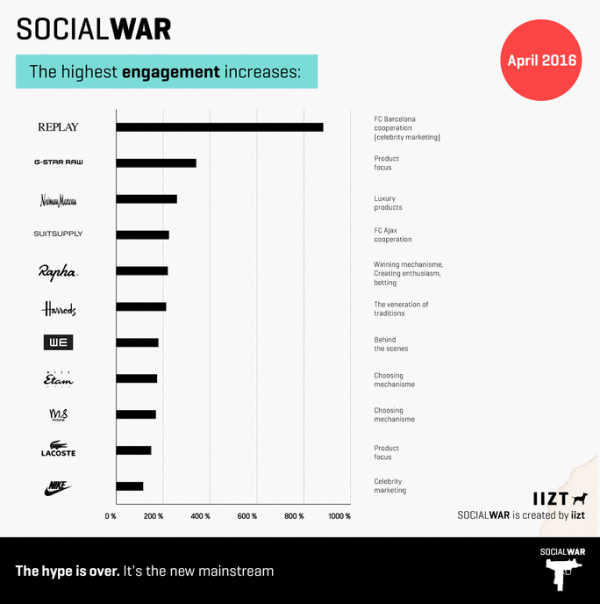 Three leaders of the last month Replay, G- Star Raw and Neiman Marcus also appear the most in our weekly articles and score up to 3 times a month.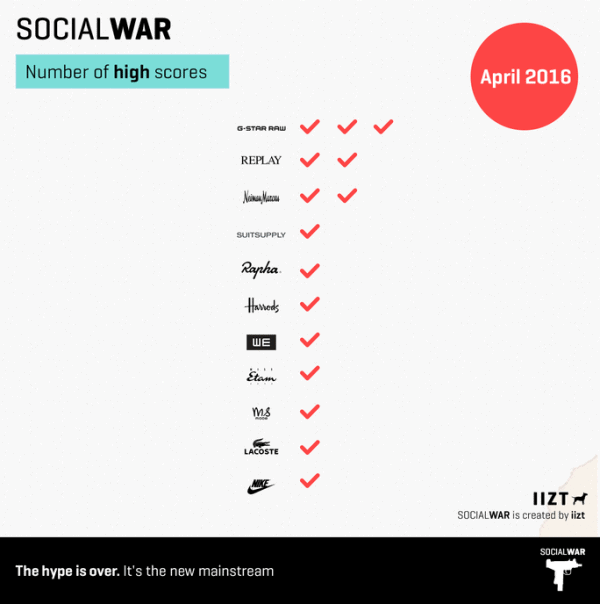 Replay is on the top of the game again as well as last month with an engagement increase up to 880%. Cooperation with FC Barcelona and especially the latest campaign with Neymar Jr #jeansyouhavetomovein brings Replay on top of our chart. Two weeks in a row Replay is the best performer.
Dutch fashion brand G-Star Raw was gradually climbing on the second position weekly focusing on a product and eventually have reached an increase on engagement up to 340% in the end of the month. Being on a second position with the highest engagement increase peak, G-Star Raw is a leader based on the appearance frequency. 3 from 4 weeks we mention G-Star Raw in our Social War weekly research.
American luxury specialty department store Neiman Marcus scored twice last month with the luxury product campaign, causing high agiotage to own that product or at least to get a sample. The first campaign with La Prairie cream in the beginning of the month worked more successful  giving a higher engagement increase (almost 260%) than the one in the end of the month with AgrariaHome Luxury Fragrance. 
But if we look at the average engagement increases these brands had in April, the brands are switching places in our chart. Just Replay and G-Star Raw are staying strong on their first and second positions: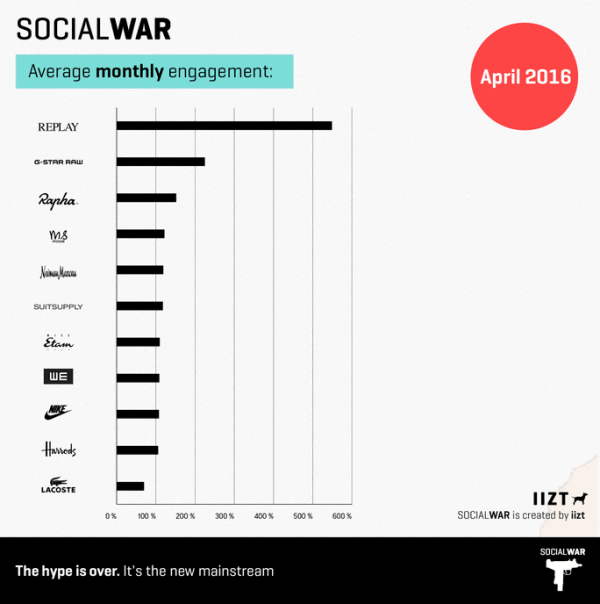 All the brands have different dynamic of increasing their engagement. Let's look at the leaders.
For example, the leader of the month Replay has the highest increase of the engagement in the middle of the month. In the end an engagement is slowly going down:

Other way around, the second best performer G-Star Raw is slowly building up their engagement, except of a sharp drop in a middle of a month:

Rapha has started in April with a high engagement increase but went low in the end. Despite this, the campaign from Rapha, which generates a lot of enthusiasm, especially between men starting betting the finish time for Liège-Bastogne-Liège last weeks of April helped Rapha to generate high average monthly engagement:

From all the brands MS Mode was the most stable with their engagement increases, with no sharp ups or downs:

If we look at Lacoste, we can see, one big increase a month doesn't mean the strongest performance for the whole month. The brand's engagement goes down below 100% as the brand usually has. It's interesting how smaller brands can score way better online than giants with millions followers on Social media.
Let's combine an engagement increases these brands have and the number followers on their Facebook page: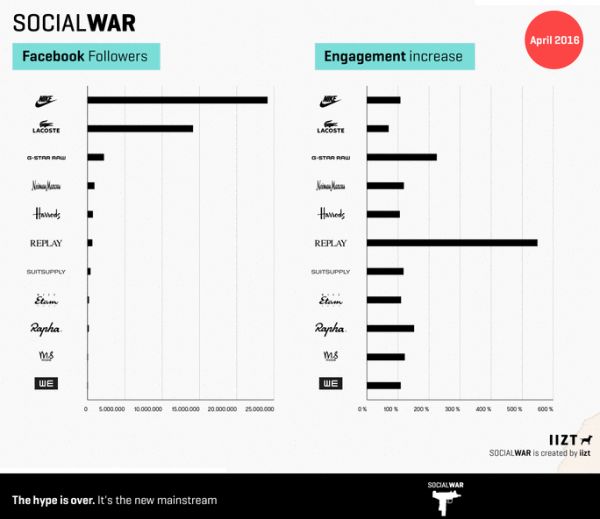 Let's take a look at the numbers. Nike and Lacoste are Facebook giants with millions of followers. Nike has more than 24 millions and Lacoste up to 14 millions. But these brands has the lowest monthly average engagement compared to the other leaders. Their engagement increases peaks are also the lowest. These brands shoot just one time a month. Their campaigns give some engagement, but it could be definitely better with such a big audience they have on Facebook.
G-Star Raw has relatively big numbers of the followers on Facebook, up to 2 millions and also doesn't forget to use some social media trends to activate this audience. Looks like brand is growing their followers and also knows how to make them active.
Replay has way less followers than Nike, Lacoste, G-Star Raw, Neiman Marcus or Harrods. Replay has up to 650K page likes the but every campaign the brand does is a social media shot , which enormously activates the activity of their audience. Same goes for Rapha. With the relatively small number of Facebook followers (around 180K) Rapha becomes the third best performer based on the average monthly engagement increase. It doesn't matter how small your Facebook audience, you can learn from Social War research cases and score better than your bigger competitors.
Overview of Brands & Trends for April.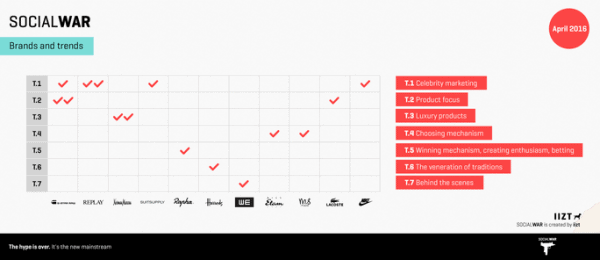 If in March Brends&Trends article we showed how brands actively combined all the trends, in April it looks like brands choose one trend and persistently use it or adding maximum one extra trend. The most popular trend was celebrity marketing, which was used by Nike, Replay and G-Star Raw, but used differently. These brands pick three different approaches of using celebrities for generating their engagement. After successful example of Replay collaborating with FC Barcelona, dutch brand Suitsupply goes into collaboration with FC Ajax and scores on their social media straight away.
G-Star Raw goes for "product focusing" and consistently raise their engagement with clear product presentation without extra focus on any details or people. And it works!
Neiman Marcus also uses product focusing, but luxury product, which perfectly works for them. Neiman Marcus knows who their target audience and their April campaigns perfectly work to attract the right customer.
Learn more from our Social War research how Rapha, Harrods, WE Fashion, Miss Etam, MS Mode and Lacoste are using other April trends to generate their Facebook engagement.
De hype voorbij, het is de nieuwe mainstream
IIZT publiceert regelmatig findings uit het Social War onderzoek. Blijf op de hoogte en stuur je e-mail naar richard@iizt.com or svetlana@iizt.com of bel ons op 020 – 693 31 31.
Social War
Social war is het ongoing onderzoek dat IIZT doet onder meer dan 70 modemerken wereldwijd. Het signaleert de do's en de dont's voor merken op social media. Iedereen in de communicatiewereld roept en blogt over social media. Wij staven alles met feiten, zodat je ook echt kan leren van elkaar. De hype voorbij, het is de nieuwe mainstream.
IIZT Amsterdam is al 13 jaar leider op het gebied van communities, branding en interactieve communicatie. Wij hebben werk gedaan voor adidas, KLM, H&M, Mitsubishi, Miss Etam, UGG, G-Star, Livera, hart.volgers, Respectance, adidas, Defensie, Men at Work, Cliniclowns en meer. Bel ons voor een kennismaking 020 – 693 31 31.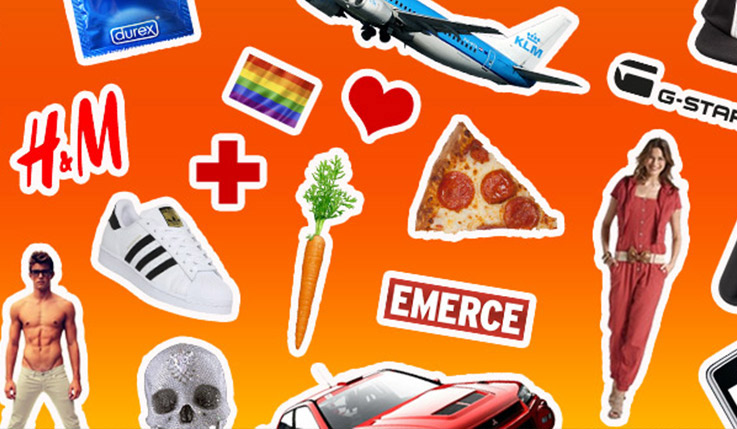 You're always welcome at Prinseneiland. Call us and reserve time for a first date. 020-6933131 or mail richard@iizt.com