Burberry, Tommy Hilfiger and Jack & Jones choose their celebrities with care. WE Fashion and Chanel scored through events. Rapha rides without rod.
In our Social War research we weekly measure and analyze the online presence of more than 70 fashion brands. We present you with the leaders of the previous week: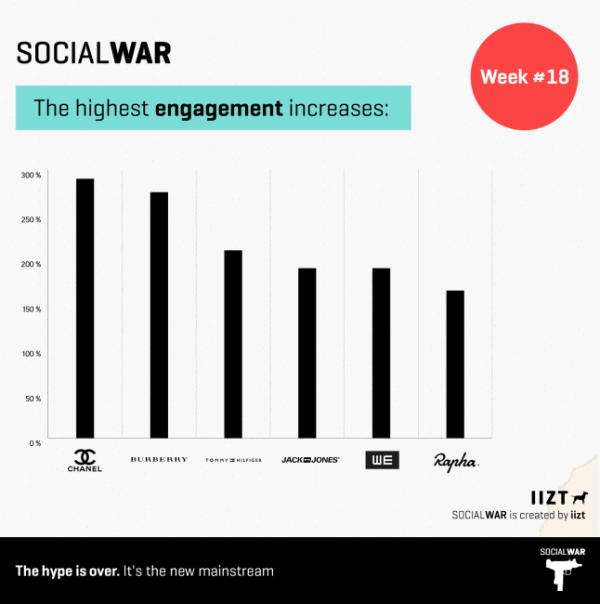 Burberry, Tommy Hilfiger and Jack & Jones choose their celebrities with care.

WE Fashion and Chanel scored through events.

Rapha rides without rod.
Burberry, Tommy Hilfiger & JACK JONES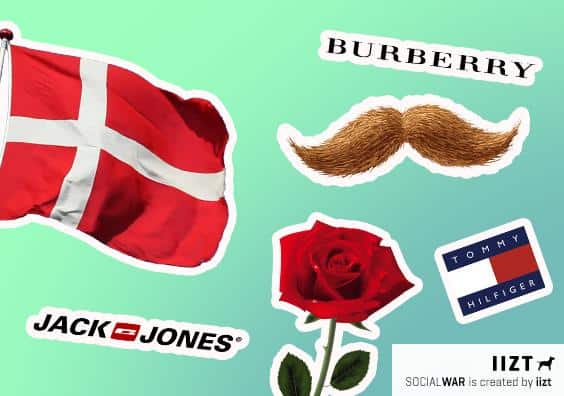 Burberry
High class and elegant beauty. A brand that conveys such an image will look for the prettiest girl in the class. Not overly sexy or raunchy, but stunning and wife material. Burberry co-operaties with Blake Lively. The American star is known for her role in the hit series Gossip Girl. With her looks and reasonably honest image she fits perfectly to Burberry. This ideal match increases the engagement up to 275%.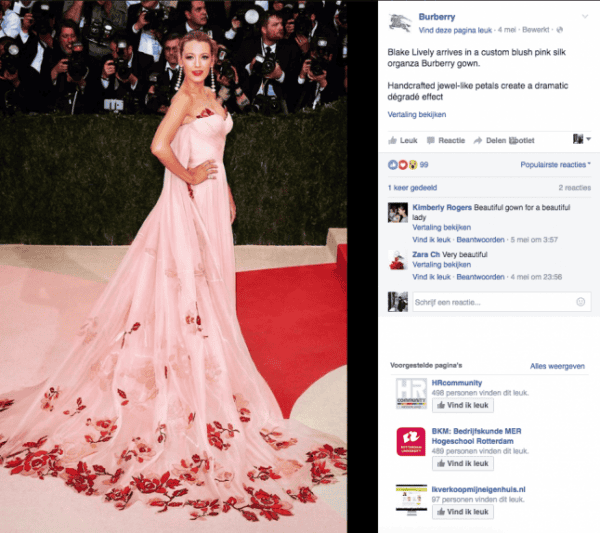 It is not that easy to find the right celebrities as brand ambassadors for a brand. Many attempts of Burberry failed before. Followers have to believe in the brand ambassadors and feel connected. Choosing the wrong celebrities can be fatal. Read the article we wrote earlier about how a brand selects the appropriate celebrities. And we tell you now about two other brands that last week used the right brand ambassadors.
JACK & JONES
The Danish Jack & Jones focuses on men in the younger segment. Actually, boys. If you want to select a proper celebrity for your brand you need to look at what fascinates boys. And then it is not that hard. To use soccer players, preferably successful ones, is a good idea. This football season you definitely think about Leicester City FC, the champs of England. The provincial club which prevailed against the Arab and Russian big business clubs in the UK. The goalkeeper of this team is a Dane! What a coincidence.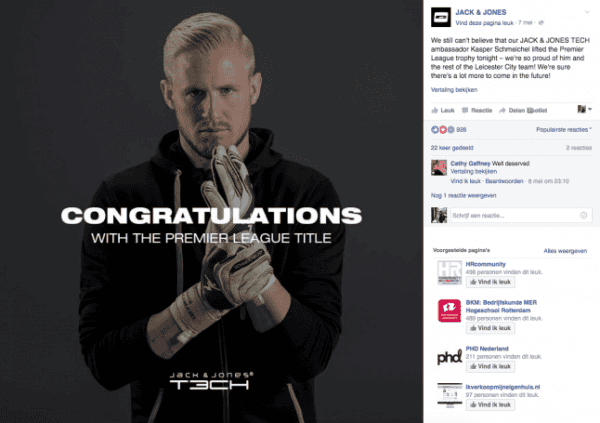 Kasper Peter Schmeichel is the son of the highly successful former goalkeeper Peter Schmeichel. With the co-operation with Schmeichel junior Jack & Jones shows the brand knows its followers. This rewards the Danes with an engagement increase of 190%. Sometimes success is so obvious, it does not have to be so complicated.
In a previous edition of Fashion Friday we wrote about brands that successfully picked their celebrities. This can be read in our previous article on Adformatie.
Tommy Hilfiger
American Tommy Hilfiger is obviously high-end: stylish, street and sexy. It's like slightly more naughty than Burberry. If Burberry is the prettiest girl in the class, Tommy Hilfiger is the guy everyone wants to be.  And Tommy Hilfiger perfectly succeeded this week with the Italian star Mariano DiVaio.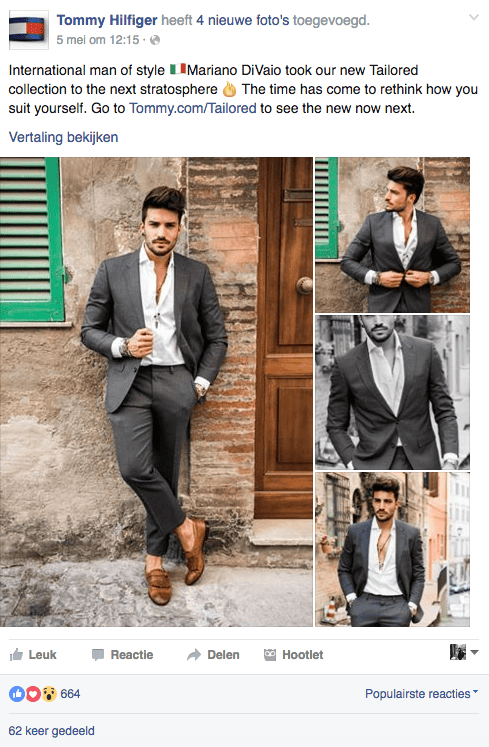 International man of style. That's how Tommy Hilfiger introduces DiVaio in a Facebook posting. He presents himself on Facebook as Fashion Blogger, Model, Actor. With nearly 3 million Facebook likes he is more than successful. It maybe looks a bit slippery, very brown and too many muscles. But he does have the naughty image which fits to Tommy Hilfiger. Buttons on Mariano's shirt is obviously way too open. Followers of the American brand seem to like it and the engagement raises up to 210%.
WE Fashion & Chanel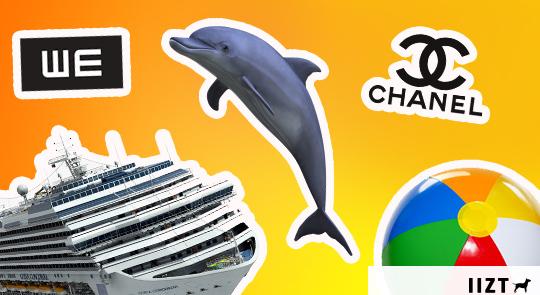 WE Fashion
In our Social War report of March we called events as one of the trends of this year. The Dutch fashion brand WE Fashion that is working hard recently in the online field, apparently are reading our reports. Through a partnership with LINDA. FESTIVAL and Fred van Leer WE Fashion raises its engagement to really great heights.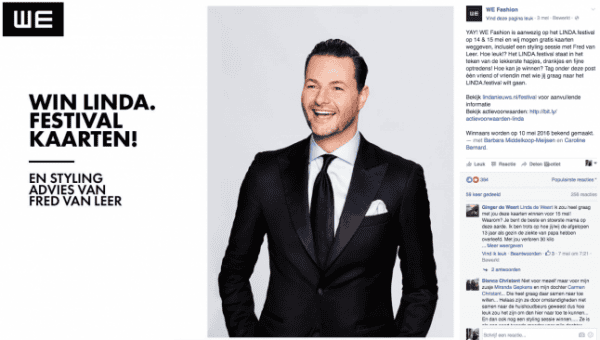 When it comes to choosing an event there's the same principle that applies when choosing a celebrity. There should be a match with the brand and followers. WE Fashion makes a great choice about cooperation with Van Leer and LINDA. Both are brands with a strong image and a wide range. Both are 100% Dutch, fun, but not too flat. The choice of a collaboration with two Dutch stars imposes no harm on WE Fashion. The engagement increases up to 190%.
Chanel
Also international brands use events successfully to increase an engagement. In the previous quarter Replay was the winner organizing a very successful event during Milan Fashion Week.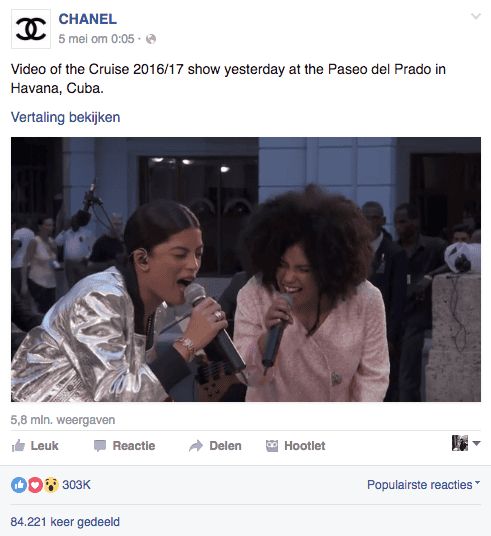 The French high-end fashion brand organizes a successful event this week. Cruise 2016/17 in Havana, Cuba. The French presented the 2016/17 collection in Paseo del Prado and organized a real cruise. Chanel understands that not only the event determines the success. It is also important to share all the experience and bright moments with your followers. Because what is the point of the successful event if 16.5 million of your Facebook followers cannot enjoy it?
Chanel shows here both arts. The event itself was a big success and the successful distribution of the content on social media gives an engagement increase of over 290%. Chanel shows us that this post-event phase for engagement generation is the same important as the event itself.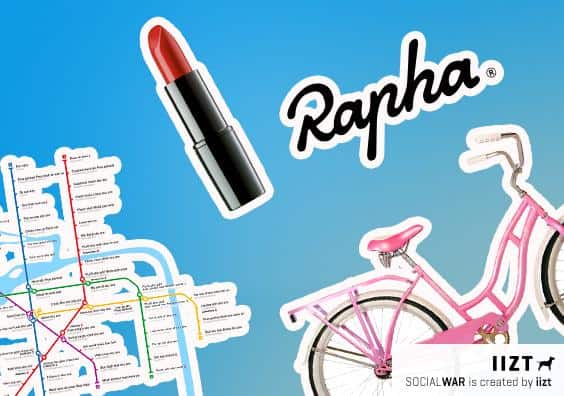 Rapha rides without rod
Just like last week Rapha shows up again in our Fashion Friday report. Where the last time Rapha approached the men of their target audience with gambling, now the brand focuses on women. The British Rapha builds a strong community and knows exactly who's its target audience. They make clear choices for years in segmentation. This week, they do it again with a post specifically for women.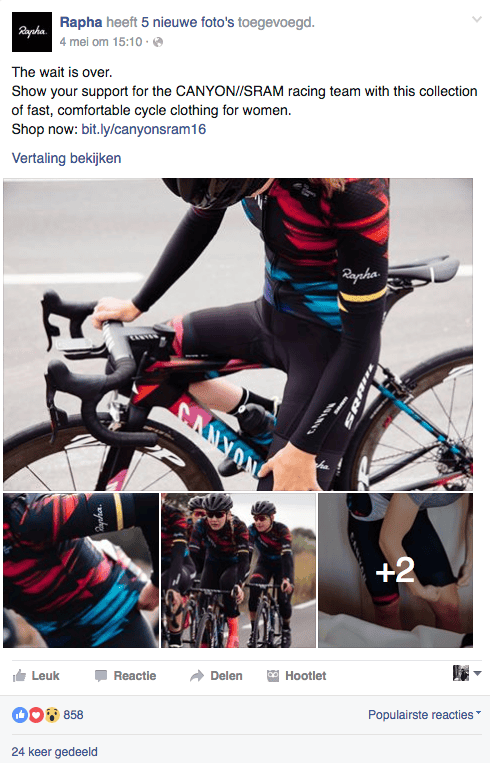 Rapha highlights the CANYON // SRAM racing team. This is one of the top teams in the UCI Women's World Tour. The sports brand repeats a previously successful tactic here.
In an earlier article we wrote the following: "Where a lot of sports fashion brands align themselves with male supporters, we now see that several fashion brands slowly move towards their female supporters. Earlier we saw that Rihanna supported Puma, Adidas works with Rita Ora. Rapha also sees the potential to approach its female followers and does it in a very successful fashion".
This repetition of tactical moves is again successful for Rapha. The post around the CANYON // SRAM racing team gives them an engagement increase of over 160%.
Social War helps you to build a strong online presence. Learn from the most successful brands.
Want to know more? Just ask us: social@iizt.com or 020-6933131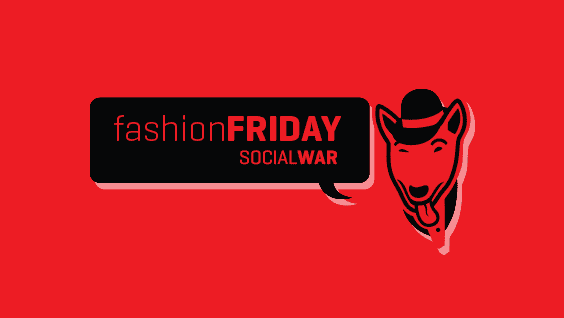 De hype voorbij, het is de nieuwe mainstream
IIZT publiceert regelmatig findings uit het Social War onderzoek. Blijf op de hoogte en stuur je e-mail naar richard@iizt.com or svetlana@iizt.com of bel ons op 020 – 693 31 31.
Social War
Social war is het ongoing onderzoek dat IIZT doet onder meer dan 70 modemerken wereldwijd. Het signaleert de do's en de dont's voor merken op social media. Iedereen in de communicatiewereld roept en blogt over social media. Wij staven alles met feiten, zodat je ook echt kan leren van elkaar. De hype voorbij, het is de nieuwe mainstream.
IIZT Amsterdam is al 13 jaar leider op het gebied van communities, branding en interactieve communicatie. Wij hebben werk gedaan voor adidas, KLM, H&M, Mitsubishi, Miss Etam, UGG, G-Star, Livera, hart.volgers, Respectance, adidas, Defensie, Men at Work, Cliniclowns en meer. Bel ons voor een kennismaking 020 – 693 31 31.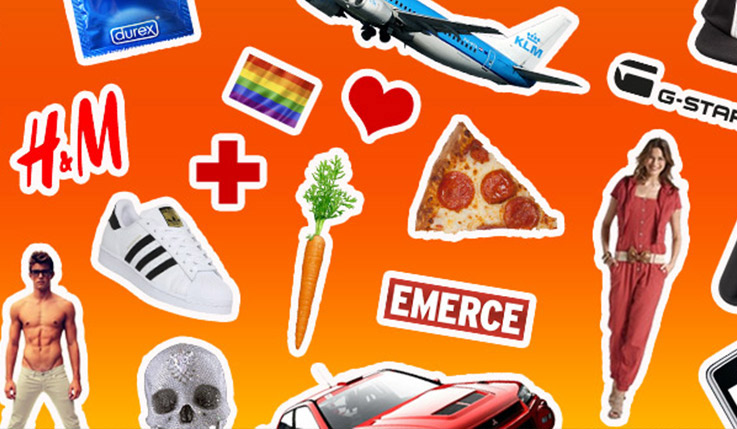 You're always welcome at Prinseneiland. Call us and reserve time for a first date. 020-6933131 or mail richard@iizt.com